KZS 1

WC cantilever for gypsum board
The KZS 1 Cantilever is intended for hanging closets into gypsum board. Its construction allows load to be spread to the floor and onto load-bearing pins of gypsum board. And therefore allows application of hanging equipment even onto walls with a lower load capacity. The distance of these pins can be from 410 to 550 mm.
The KZS 1 Cantilever allows:
– application for hanging closets with distance between assembly screws 180 and 230 mm and with distance between water inlet and outlet pipe 135 mm and between anchoring screws and outlet pipe 100 mm.
– setting of sitting height in range of 380÷510 mm, which means for classical usage, and for the handicapped
– application of outflow pipe d = 110 mm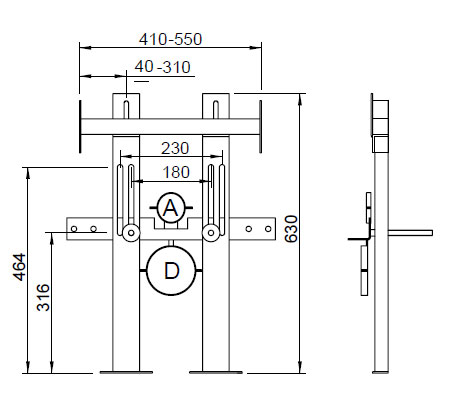 A –

space for water inlet connection

n

D –

space for setting outlet pipe