AUZ 010

vandal-resistant stainless-steel standing closet with back drain
AUZ 010 is a stainless-steel vandal-resistant WC in matt design intended to stand on the floor at the wall. It is suitable for places where the common closet cannot be attached to the wall, because of a thin bearing particle, for example. The standard design AUZ 010 has a back drain (version with bottom drain AUZ 04).
It is suitable to supplement the WC with the automatic pressure water flushing device AUZ 3, automatic flushing device with the piezo button AUZ 3.P (or the vandal-resistant flushing device BSAZ 01) or any flushing device with a cistern.
Standard delivery does not include the plastic seat. Due to its resistance against vandalism it is intended particularly for modernization of the prisons, diagnostic establishments and other institutions where security is paramount.
WC is also manufactured in the design for the disabled under the designation AUZ 010 INV.
Further closet versions can be found in the section Stainless-steel closets or Stainless-steel safety closets.
AUZ 010 is manufactured from the stainless steel AISI 304. Other materials (e.g. AISI 316) possible on order. For cleaning we recomnned WÜRTH detergents – material preservation (no. 0893 121 K) and material cleaning (no. 893 121 1).
Package contents
Stainless steel closet
Anchoring material
AUZ 3 – automatic pressure flushing system
AUZ 3.P – automatic pressure flushing system with piezo control
BSAZ 01 – vandal resistant pressure flushing system
| | |
| --- | --- |
| Water inlet | d= 34-50 mm |
| Min. water flow | 70 l/min |
| Outlet | d= 90 mm |
| Weight | 18 kg |
Set-up outlet d = 110 mm including rubber sleeve for pipe d = 90 mm.
Set-up water inlet d= 34-50 mm according to chosen sealing.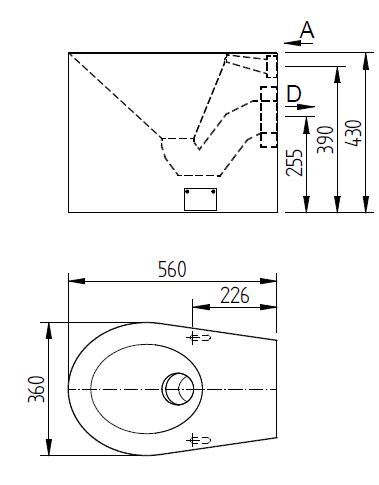 A –

water inlet

n

D –

outlet