AUZ 03 INV

stainless steel wall hung toilet for disabled users – vandal resistant
AUZ 03 INV is a stainless free-standing toilet for disabled people. The closet is based on standard AUZ 03, which is elevated and protracted to comply with the ordinance for products for disabled people. Toilet is vandal resistant version with no plastic seat. Mounting bolts are hidden for common users.
The closet includes a removable back support recommended by the Wheelchair Association.
A set with an AUZ 3 INV automatic flushing system and cantilever KZ 1 or with an AUZ 5-II (in-wall toilet module) flushing system can be completed. The AUZ 3 and AUZ 5 flushing systems need to be ordered separately.
The stainless steel casing is made of 1.5 mm thick st.steel metal sheet.
Because of its high resistance to damage, the AUZ 03 INV is intended mainly for social facilities with expected higher loads, such as highway lay-bays, public houses etc. where easy hygiene maintenance is required.
Toilet is made in more vandal resistant version with material thickness (2-3 mm) under BSNZ 01 INV.
Other versions for st. steel toilets can be found on st. steel toilets or st. steel safety toilets.
Toilets are manufactured from the stainless steel AISI 304. Other materials (e.g. AISI 316) possible on order.
For cleaning we recomnned WÜRTH detergents – material preservation (no. 0893 121 K) and material cleaning (no. 893 121 1).
Package contents
st. steel toilet
assembly material
AUZ 3 INV – anti-vandal pressure flushing system for handicapped
KZ 1 – cantilever for wall hung WC
AUZ 5 – II – Automatic flushing control for WC in chrome-plated cover, including the wall module
| | |
| --- | --- |
| water inlet | d = 34–50 mm |
| min. water flow | 70 l/ min. |
| outlet | d = 90 mm |
| weigth | 23 kg |
Set-up outlet into the floor according to the scheme d = 110 mm with sealing for the pipe d = 90 mm
Set-up water inlet according to the scheme d = 34–50 mm and chosen gasket
Set up cantilever for mounting of toilet (AUZ 03 INV)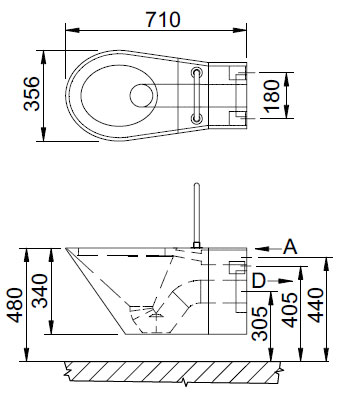 A –

water inlet

n

D –

outlet