ASO 04

dryer with komaxit surface finish for 12 pairs of shoes
ASO 04 is a new dryer with komaxit surface finish designed to dry up to 12 pairs of shoes. The dryer shall be fixed to wall. Drying is ensured by forced heated-air flow which – when compared to other systems – prevents bacterial multiplication in humid environment. The drying temperature is not more than 20 degrees centigrade higher than the room temperature.
If required the dryer can be equipped by ozone generator to kill disease-producing bacteria. The product must then be located in ventilated rooms to avoid excess ozone concentration. Using a partition two dryers can be fixed together back-to-back and placed to open space on a stand screwed to the floor. The stand and partition are not included in the delivery.
Package contents
Dryer with arms
Fixing material
| | |
| --- | --- |
| Power supply | 230 V, 50 Hz |
| Power input | 620 VA |
| Air temperature | max. 20°C above surrounding temperature |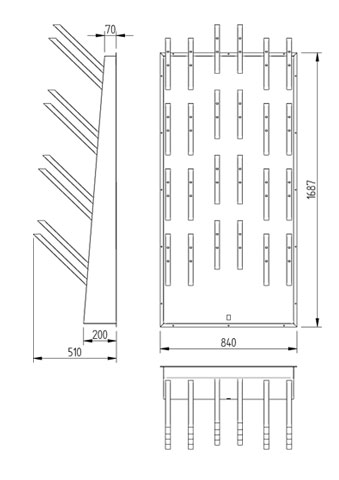 Manual
Data for projectants