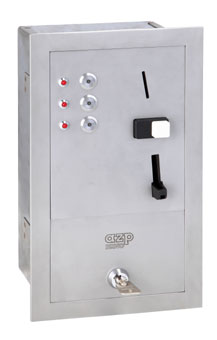 MAS 2.2 – MAS 2.8 are coin-operated controls intended for operating 2 to 8 end users (showers, washbasins, electric dryers, through-flow water heaters etc.).
The total time and charge for the use of the appliance can be set on the control. When setting up the control for the use with showers or washbasins that are equipped with the water meter it is also possible to set the amount of water expendable at one use. The user is given notice by interrupted water flow that the showering time is getting to its end.
The coin-operated automat should be supplemented with shower armatures SA 1.1 (SA 1.TV), SA 2.1 (SA 2.TV) or SA 11.1 produced by AZP Brno.
The power unit is not part of the delivery and must be resolved separately in the frame of the electro-installation project.
On order the coin-operated shower control can be equipped with a coin counter PM 1 or frame with lock cover.
The products are manufactured from the stainless steel AISI 304. Other materials (e.g. AISI 316) possible on order. For cleaning we recomnned WÜRTH detergents – material preservation (no. 0893 121 K) and material cleaning (no. 893 121 1).